Tools to help you run a successful ministry
Our StartCHURCH administration products have everything you need to ensure clarity in all of your church documentation. You no longer have to worry about creating proper documents and policies for your organization or finding out the proper way to take board meeting minutes. These resources can help you save time and properly lead your organization!
Documents Suite™
Forms and Certificates
It's now faster and easier than ever to protect your ministry's vision by creating easy, simple-to-use forms that ensure those doing the ministry are keeping with the ministry's vision.
Learn More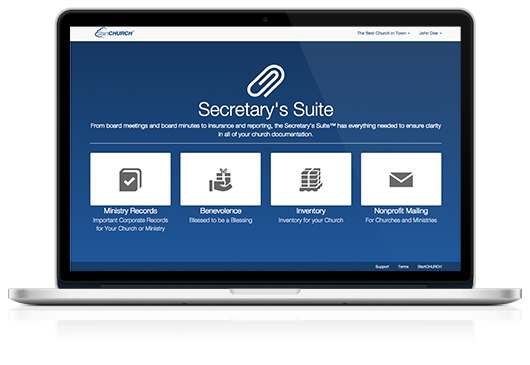 Secretary's Suite™
Empower Others to Lead
Secretary's Suite™ helps you protect and manage your assets through creating an inventory system. Additionally, this suite will help you save money and reach your city through nonprofit mailing.
Learn More
Tax Suite™
Financial Reporting Toolkit
With tools that make tedious financial reporting a breeze, the Tax Suite™ puts financial reporting power back at your finger tips.
Learn More
Minutes Suite™
How to Run a Proper Board Meeting
With the Minutes Suite™ you will have access to everything you need to know about board meetings, including who can serve on a board, how to hold a proper board meeting and how to take minutes.
Learn More
Policies Suite™
Policies and Procedures for Your Ministry
The Policies Suite™ will serve as a roadmap to protect your vision and help you write your procedures with 55 customizable policies.
Learn More
Ministry Corporate Records Kit™
Ensure Strong Record Keeping
Our corporate records notebook was specifically designed for churches and ministries, making it easy to keep the kind of records that keep your ministry strong. Along with the corporate records notebook, you will also receive the added advantage of using the custom-made corporate seal that we provide for your church or ministry, ensuring your paperwork follows legal protocols.
Learn More