Everything you need to lead a church
With these StartCHURCH resources, you will be able to create customizable church processes, establish an ordination program, and become skilled in church compliance. Put today's leading church management tools right in the palm of your hand.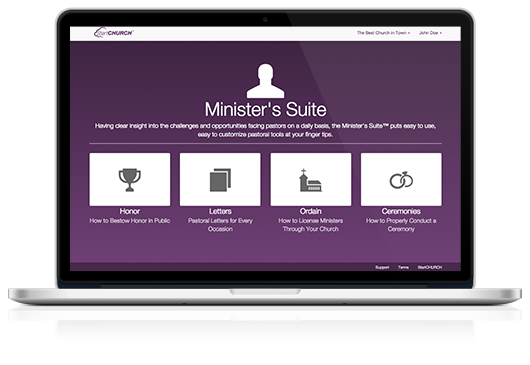 Minister's Suite™
Pastor's Toolkit
Having clear insight into the challenges and opportunities facing pastors on a daily basis, the Minister's Suite™ puts easy to use, easy to customize pastoral tools at your finger tips.
Learn More
Equipped to Ordain™
An Ordination-focused Video Course
Equipped to Ordain™ includes five detailed lessons that will help you create legal, compliant, and proven strategies for ordaining others within your ministry.
Learn More
StartCHURCH® University
Become a certified church executive
Like never before, you can learn to navigate the ever-changing legal landscape of America. With StartCHURCH University®, you can put today's laws to work for you and your ministry, ensuring that the church has someone to help lead it to success and legal compliance. Let StartCHURCH University® ensure that your ministry has the legal knowledge it needs to succeed.
Learn More
Called to Care™
Establish Your Benevolence Program
The Called to Care™ Suite was created for ministry leaders and pastors to have a resource as they create and establish their benevolence program.
Learn More
Leading Through Crisis™
A Video Course to help Navigate Through Crises
Leading Through Crisis™ includes six lessons that explore the process of what it looks like to lead your ministry through times of uncertainty, no matter how great or small.
Learn More
Ministry Corporate Records Kit™
Ensure Strong Record Keeping
Our corporate records notebook was specifically designed for churches and ministries, making it easy to keep the kind of records that keep your ministry strong. Along with the corporate records notebook, you will also receive the added advantage of using the custom-made corporate seal that we provide for your church or ministry, ensuring your paperwork follows legal protocols.
Learn More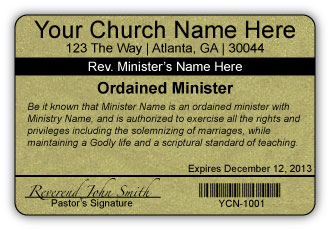 Custom-Made License
Ordination Credentials
Introducing the StartCHURCH ordination ID card. This credit-card sized ID includes your name, the name of your church and other important information that communicates to the public your status as a member of the clergy.
Learn More