Forms, Policies and Certificates
The vision in your heart is only as good as it can be lived out by those around you. Documents Suite™ harnesses the power of clarity and simplicity by putting hundreds of editable forms and certificates for every occasion in your hands, ensuring that those who run with the vision, know which way to go. It's now faster and easier than ever to protect your ministries vision by creating, easy, simple to use forms that ensure those doing the ministry are keeping with your ministry's vision.
Forms
50 fully customizable forms
Many things clamor for the attention of church staff, not the least of which is creating systems and structures that help the ministry run smoothly. A key part of making sure this is done is by ensuring your church has the right forms in place to keep everything moving forward. With the Documents Suite from StartCHURCH, you can save 'hundreds of man hours by starting your Forms library with pertinent forms that are completely customizable to your church or ministry. There's no need to start with a blank page, harness the power of proven ministry forms that are sure to help you keep your church moving forward.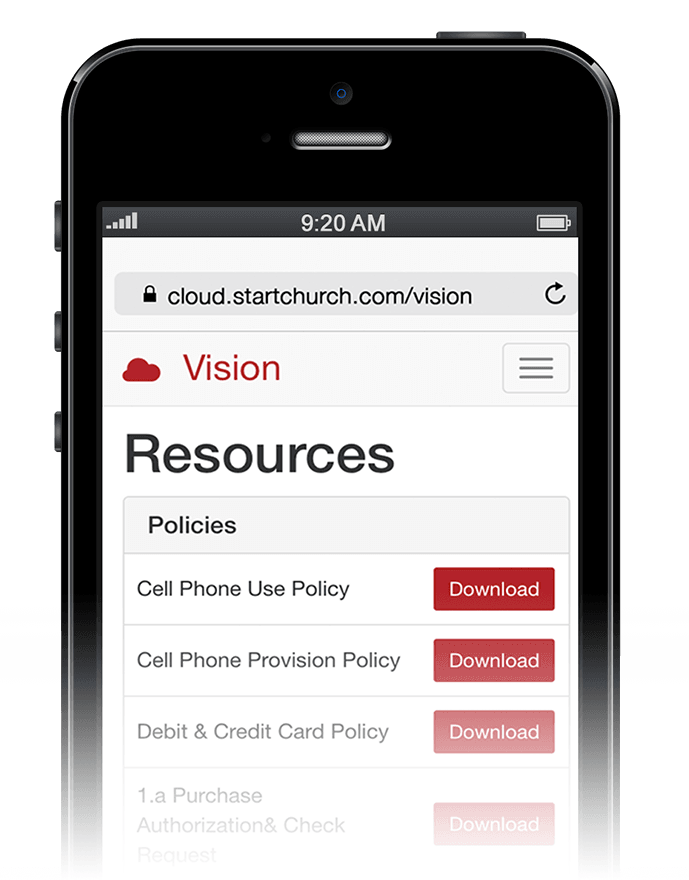 Vision
42 powerful, editable policies
Oftentimes, the hardest part of drafting critical policies for your ministry is starting with a blank page. Many church leaders feel a desire to craft supporting policies, but are overwhelmed at the process of developing the correct wording that will accurately develop such policies. To help every church have powerful, supporting policies and procedures, Documents Suite™ comes with 42 unique, editable sample policies for you to use and create your very own.
Some examples include:
Debit and Credit Card Policy
Altar Ministry Policy
Cell Phone Use Policy
Travel Expenses Policy
Plus 38 more!
Certificates
28 certificates to commemorate the journey
Throughout the life of a church, there are moments that need commemorating. Dedications. Graduations. Achievements. All moments that we don't want to let pass by. With Document Suite™, you can now create printable, custom certificates that celebrate the milestones of the members of your church, creating a legacy of achievements for years to come.
Water Baptism
New Member
Graduation
Dedication
Awards
Achievement
AND MANY MORE...
Asset Manager
Protect your church/ministry's assets
Managing and protecting your dream is now possible with the help of Documents Suite™. This program follows a logical set of steps that will place all of your church assets under protection while maximizing your church's ability to engage in ministry without fear of liability. All you have to do is follow the steps detailed in this program.
Included is every document you need to manage your:
Church
Holdings Corporation
For Profit Arm
Community Development Corporation