Church Finances Made Easy!
The StartCHURCH Bookkeeping Service employs the latest strategies in financial management to help protect and grow your ministry, easily and strategically helping you manage, record, and properly report your finances. With the StartCHURCH Bookkeeping Service as your hub, you are well on your way to leading your ministry with the financial strength you have always wanted.
Stewardship is Leadership
Financial confidence at an affordable price
With the StartCHURCH Bookkeeping Service, you put the best financial practices to work for you, while adding a team of strategic, financial experts to your team, helping you achieve your financial goals. Do not wait. Get started today in leading your ministry to financial success.
Personal Bookkeeper
You need more than a bookkeeper; you need YOUR bookkeeper. Imagine having the power of a ministry-focused bookkeeper on staff, at a fraction of the cost. With this service, you will have an assigned bookkeeper that knows you, your ministry, and your vision.
24/7 Access
Ministry never sleeps. It is critical for successful ministries to be able to make real-time decisions, with near real-time data. With the StartCHURCH Bookkeeping Service, you will have 24/7 access to the financial reports you need to lead your ministry.
Full Control
It is your church, your books, and your data. With the StartCHURCH Bookkeeping Service, none of that changes. Our goal is to assist you with the financial side of your ministry. This service allows you to have complete confidence that your accounting is in check.
Membership, Management, and Tithe Tracking
Our cloud-based Kingdom Steward software makes the process of keeping contributions made to your organization easy and secure. You have "anytime, anywhere" access to member giving records and can send out receipts and statements by email with one click. With Kingdom Steward it really is that simple.
Safe, Secure Storage
We realize that your information is valuable. That is why we guarantee your information will be protected on our safe and secure server. All of your receipts will be backed up regularly in multiple secure locations and securely on the Cloud.
No Setup Fees
That is right! No start up fees. With the StartCHURCH Bookkeeping Service, we do not charge any additional fees to get started. All that is required to start is the first month's fee. Check out our pricing page to choose the appropriate pricing for you.
We Do The Heavy Lifting
Save Time, Money, and Energy
Many ministers have voiced that leading the financial side of their ministries drains them of passion and energy. They feel called to preach and make disciples, but feel bound to a desk, working on their finances! THAT DAY IS OVER! With the new StartCHURCH Bookkeeping Service, ministers can now focus on more of their calling, and less on reports.
Imagine...
Having more time for ministry
Having the reports and data you need to make decisions
Having a team member doing all your financial entry
Having a partner, helping you navigate your way to financial success
That is what you get with the StartCHURCH Bookkeeping Service!
Personal Bookkeeper
Your finances, your team
The strength of the StartCHURCH Bookkeeping Service lies in having a financial expert as part of your team. With our service, you have your own personal bookkeeper who knows you, your ministry, and your ministry vision, ensuring that your accounting reflects that vision, as well as the mission of your church. You have direct phone and email contact information, so communication is never an issue. Your StartCHURCH bookkeeper is able to input data into the system and create the weekly reports and downloads you need to make financial decisions. Call now and add a StartCHURCH bookkeeper to your team.
You Own the Data
Your finances, your information
With the StartCHURCH Bookkeeping Service, we provide a Quickbooks Online account for each client. This account is configured for your ministry, offering you 24/7, near real-time accounting at your fingertips. Also, your Quickbooks Online account allows you to write and print checks, export church data at any time and have access to powerful reports. With the StartCHURCH Bookkeeping Service, you bring your ministry into the digital age, making sure you are leading your ministry with confidence. Using email and DropBox, you can submit receipts with the touch of a button, empowering your bookkeeper with any data entry needs. Your StartCHURCH bookkeeper also emails you customized, timely reports, giving you the financial snapshots you need. And you can rest assured, knowing a copy of all receipts and financial data is kept on the StartCHURCH secure servers. Imagine all your data, available to you all of the time.
CPA Compilation Reports
Your finances, your reports
One of the more important parts of any accounting service is customized reports that show you the financial health of your ministry. With the StartCHURCH Bookkeeping Service, getting those reports has never been easier. Our staff CPA will issue the following CPA compilation reports:
Income Statement
This report contains all income and expense line items for the period, as well as the net income for the period.
Balance Sheet
This report contains the current balance of all funds and accounts (including bank accounts and credit cards) within the chart of accounts.
Cash Flow
This report shows where cash has increased and decreased during the period.
StartCHURCH Tools
The StartCHURCH Bookkeeping Service uses a variety of powerful, proprietary software tools created by the StartCHURCH design team. These tools form the foundation of the bookkeeping service and serve to empower you to collect, track, and report on your ministry's financial landscape. Since each service comes with a FREE copy of these tools, the StartCHURCH Bookkeeping Service is equipping you to do more than track finances; it is empowering you to lead them.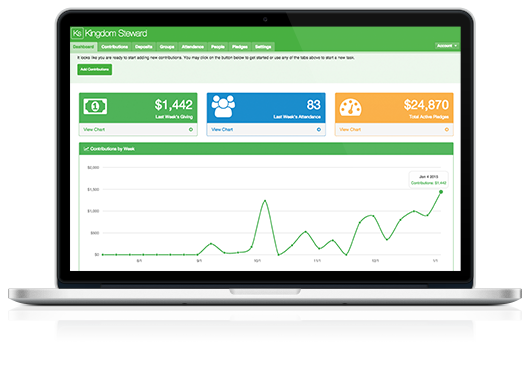 Kingdom Steward
Track, report and manage donations
Tracking and managing your church's finances has never been easier. This program takes care of everything for you so that you can focus on the ministry.
You will be able to:
Track contributions
Print reports and receipts
Track attendance
Create and manage member information
Learn More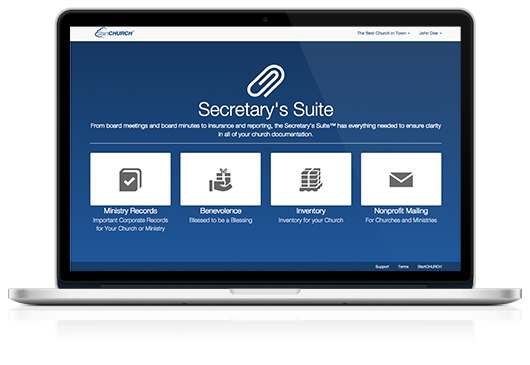 Secretary's Suite
The Administrator's Tool Kit
From board meetings and board minutes to insurance and reporting, the Secretary's Suite has everything needed to ensure clarity in all of your church documentation.
It includes:
Everything you need to keep accurate records
Instruction on how to run a legal benevolence program
Instruction on how to protect and manage assets
Instruction on how to save money and reach your city with nonprofit mailing
Learn More
Your next question is probably, "How much does it cost?" Well, the first thing you should know is that our bookkeeping service has no setup fee. That is right, NO SETUP FEE! We will not charge any additional fee to "set up" the account when initiated. All that is required to start is the first month's fee.
Choose The Price That Fits You
We will charge a monthly fee based on a reasonable expectation of annual income for the service year. The pre-defined monthly rates are as follows, and cover 12 months from the start date. The start date can be either the first day of the month of initiation or the first day of the month following initiation, at the customer's option.
For annual income up to $200,000
For annual income up to $400,000
For annual income up to $800,000
Over $800,000? Call us for custom pricing
Get started today!
Do you want to know more? We'd love to hear from you!
Are you ready to get started?
Do you have any questions or concerns?
Whatever they may be, we are here for you. Call us today and one of our specialists will gladly assist you with your needs.
Let us give you a call
Trusted by over 16,000
churches and ministries
I can not express the gratitude we have from the help StartCHURCH is giving us. To be able to go from nothing to living out God's calling in our life really allows me to focus on what God has called me to do. Thank you for taking the time to answer so many questions.
Thanks so much and you've done an exceptional job servicing the legalities of this Ministry.
Thank you so much for everything. I was reading the document, and i was so impressed! The documents are so well put together, and I can see that everything is now coming together for our ministry. I appreciate you and your company so much!
Man, thank you for taking the time to hear my story and relate to me. Wow! How long have you guys been around? This (UCS) sounds like a machine. You guys really have thought of everything. I feel like you just gave me a crash course in Business 101. I wish my pastor heard about you guys years ago!
A big thanks to your organization as we couldn't have made it through the process with such ease if it wasn't for the StartCHURCH team helping us and walking us through every step of the process.
Team, Yesterday I came home to receive a letter from the IRS.  We are now officially a 501(c)3 organization.  Words can not express the gratitude I feel to you guys.Thank you very much for your calling to empower the church!
I sat and stared at the conference questionaire on Friday, but couldn't begin to put into words what I was feeling.  I definitely needed to process and so, here goes. I was overwhelmed, blown away, thrilled, giddy, teary (and a whole list of several other positive adjectives) by the amazing and precious way that Holy Spirit orchestrated the opportunity for Rico and I to be with you at the conference.  For years, I have lain awake at night, praying the very prayer that Raul mentioned.  The one asking Abba to cover us with His grace, mercy and favor, as He hid us deep in the shadows of His mighty wing, with regards to our paperwork and the IRS.  It's never been - yet - any great amount of money, but it was an integrity issue for us.  We want to represent the Kingdom well...and knew that we were failing miserably in this area.   I am usually a voracious note taker, but I could not write anything for quite awhile after the conference began, as I tried to process the gift that had been given to us, by your generosity.  I cannot put into words the incredible weight that was lifted.  As we sat and tried to absorb the information, I was also struck by the level of integrity and true commitment to the ministry of StartCHURCH, and the manner in which you all share it with others. I've told many people that Rico and I speak three languages rather fluently: English, Spanish and Holy Spirit, but when it comes to technology and IRS, we definitely need translators!  Thank you, thank you, thank you, for breaking these barriers for us to begin to understand what, how, and why, we can have success when we know what is possible, legal and acceptable - as well as Kingdom minded!  Nathan, we need some of your business cards, because we've got lots of folks we want to tell about StartCHURCH!  With much love, deep appreciation and prayers of blessings for you.
Thank you for moving forward with our service so quickly. Our church is so grateful to StartCHURCH for all your hardwork. Your service is so efficient and professional.
Blessings to you! I am so impressed with Church Start, working with David and now you. Everyone has been a delight and I truly trust the ministry that Church Start is providing to the body of Christ. Your guidance and expertise is so desired, so I can focus on fulfilling the calling of advancing His kingdom, then worrying if I am compliant or not.
Blessings and thank you all for assisting me with God's vision and purpose for my life.