Protect what God has given you to lead!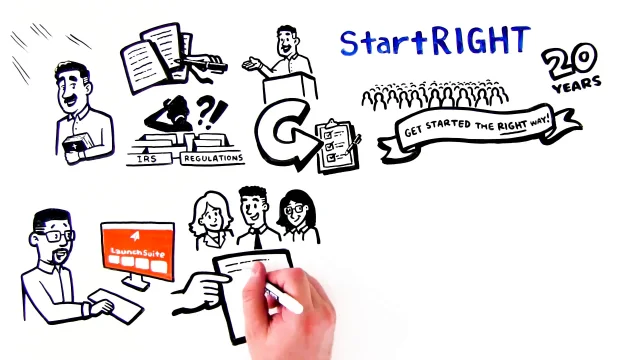 Easy. Affordable. Trusted.
It has never been easier to get started! The StartRIGHT Service has helped thousands of churches obtain 501(c)(3) tax-exempt status and establish a strong foundation that protects what God has given them to lead. This proven system results in maximized protection while building strength on which to grow.
Easy
Starting your church has never been easier. We listen to your vision and fill out all of the complicated paper work for you to help ensure that you are protecting what God has given you to lead. It allows you to continue to pursue your vision.
No IRS forms to fill out.
No IRS agents to talk to.
No complicated paperwork.
Affordable
We understand that starting a church is a giant leap of faith. We also understand that taking that leap of faith costs money. The StartRIGHT Service does not require large legal fees like most companies do.
Easy monthly payments.
Get started right away.
Designed with church planters in mind.
Trusted
Over the past 20 years, our team of attorneys, CPAs, and church planting specialists has helped thousands of churches establish a legal foundation that has protected their vision. Join the thousands who have trusted StartCHURCH.
Thousands of churches started.
100% approval rate.
Money-back guarantee if not approved.
Obtain 501(c)(3) Tax-Exempt Status
For years now, obtaining the 501(c)(3) tax-exempt status has been an intimidating and challenging process to churches and ministries - UNTIL NOW! With the StartRIGHT Service, it has never been easier to obtain tax-exempt status. There are many benefits to obtaining 501(c)(3) status.
Exemption from federal income tax
Tax-deductible contributions
Exemption from federal unemployment tax
AND MUCH MORE!
The StartRIGHT Service Does it All.
With the StartRIGHT Service, you can rest assured that you, the vision God planted in your heart, and the members of your church are protected. We come alongside you and take care of everything. You can get back to pursuing your vision, while we do all of the heavy lifting. Speaking of heavy lifting, here is what some of that entails.
Incorporation*
With the StartRIGHT Service, our specialists will help you develop articles of incorporation* that will give you a strong legal shield, ensuring your limited legal liability, and will protect you and your members. You can create articles of incorporation* that reflect your vision and mission. Getting incorporated also gives you the ability to license and ordain ministers of the Gospel and serves as the legal birth of your organization.
FEIN
We obtain your personal Federal Employer Identification Number, and provide you with all of the information you need to open a church bank account, enabling you to take tax-deductible tithes and offerings. This number is used to identify your corporation and is needed for business and federal purposes. This number may also be known as a Tax ID Number.
Bylaws*
Other than the Scriptures, the bylaws* are the most important document in your church. The StartRIGHT Service empowers you to select the bylaws* that protect your vision, your ministry, and your members, adopting the governmental structure that reflects your ministry structure and allowing the pastor's vision to be kept clear.
Policies
Many church leaders feel a desire to craft supporting policies but are overwhelmed at the process of developing the correct wording that will accurately develop such policies. With the StartRIGHT Service, we assist you in developing essential policies that help establish and protect your board of directors and those helping lead your ministry.
Tax-Exempt Status
We understand that planting a church can be a difficult journey, which is why we have made it very simple, secure, and affordable for every church to obtain tax-exempt status. We fill out the 501(c)(3) application with you, using the information that you give us, and we guarantee that you will be approved for your 501(c)(3) tax-exempt status or your money back.
Ordination
Many ministers believe that they are only able to plant a church if they have either been ordained or licensed as ministers of the gospel. However, after establishing a church on a solid legal foundation, you can become ordained right through the very church you started. We provide all of the needed paperwork that empowers your ministry to ordain ministers, including the founder.
Hear what pastors are saying about the StartRIGHT Service.
"We want to encourage you. Are you a church planter? Are you starting a ministry? Are you ready to answer the call of God on your life? Let StartCHURCH help you like they have helped us."
- Pastor Moses Anderson, Communion House.
Powerful, Cloud-Based Software Tools
The StartRIGHT Service is a bundle of software and services you can use to protect what God has called you to lead. With the purchase of the StartRIGHT Service, you will have access to five powerful tools: Launch Suite, Minutes Suite, Policies Suite, Tax Suite, and Exemption Suite. In addition to this software, you can use our FREE clerical services that will put a specialist to work for you in filling out the paperwork as you direct. This really is America's #1 church planting service!
Become Legally Ordained
A core part of the StartRIGHT Service is the ability to license and ordain ministers of the gospel, starting with the senior pastor. With this service, you can be legally ordained through your own ministry, with the ability to do weddings, visit prisons, save on parking at hospitals, and take special tax deductions only available to legally ordained pastors. God has called you; let the StartRIGHT Service give you the legal ordination that comes with that call.
Call today to speak to a church planting specialist
A Church Planting Service You Can Trust
With our 100% IRS approval guarantee, you will feel confident knowing that you are doing business with the industry-leading church planting organization that cares about the success of your church, ministry, or nonprofit outreach. Our team of attorneys, CPAs, and church planting specialists has helped thousands of churches and ministries establish a legal foundation that has protected the church, its members, and the vision of the pastor.
In the StartRIGHT Service, we follow a deep conversational approach to understanding the vision and mission that God has given you, in order to secure 501(c)(3) status for your church. This gives pastors and leaders confidence, knowing that they are building the dream God has given them.
Yes, we are doing the work for you throughout the whole process but you are in control. With your permission, if the IRS has questions about your application, our in-house attorney will communicate with the IRS on your behalf. You are free to focus on your ministry while we focus on your administration planning!
Resources just for you!
At StartCHURCH, we're ministry-minded like you! We care about your ministry's success. That's why we created several free resources to encourage you every step of the way as you pursue what God has called you to lead.
Check out some of our top blogs, ebooks, podcasts, and more for church planters just like you!
CALL US TODAY!
Are you ready to get started?
Do you have any questions or concerns?
Whatever they may be, we are here for you. Call us today and one of our specialists will gladly assist you with your needs.
Schedule a call
Are you unavailable to call right now? That's okay!
Schedule a time that works for you: