Track, Report and Manage Donations
With Kingdom Steward, your church employs the latest in cloud software technology, giving you a powerful, easy-to-use tool that can track tithes, offerings and attendance, while generating valuable financial reports, and managing building pledges, all while being intuitive for any size church to use. And, since Kingdom Steward sits on a robust data base that allows the user to see where all tithes and offerings are coming from, who is giving them, and through what channels they are being given, Kingdom Steward offers a one-stop snap shot on the giving of your church. And, with the new Cloud version of Kingdom Steward, all this information is available anytime, any where. Put Kingdom Steward to work for you today!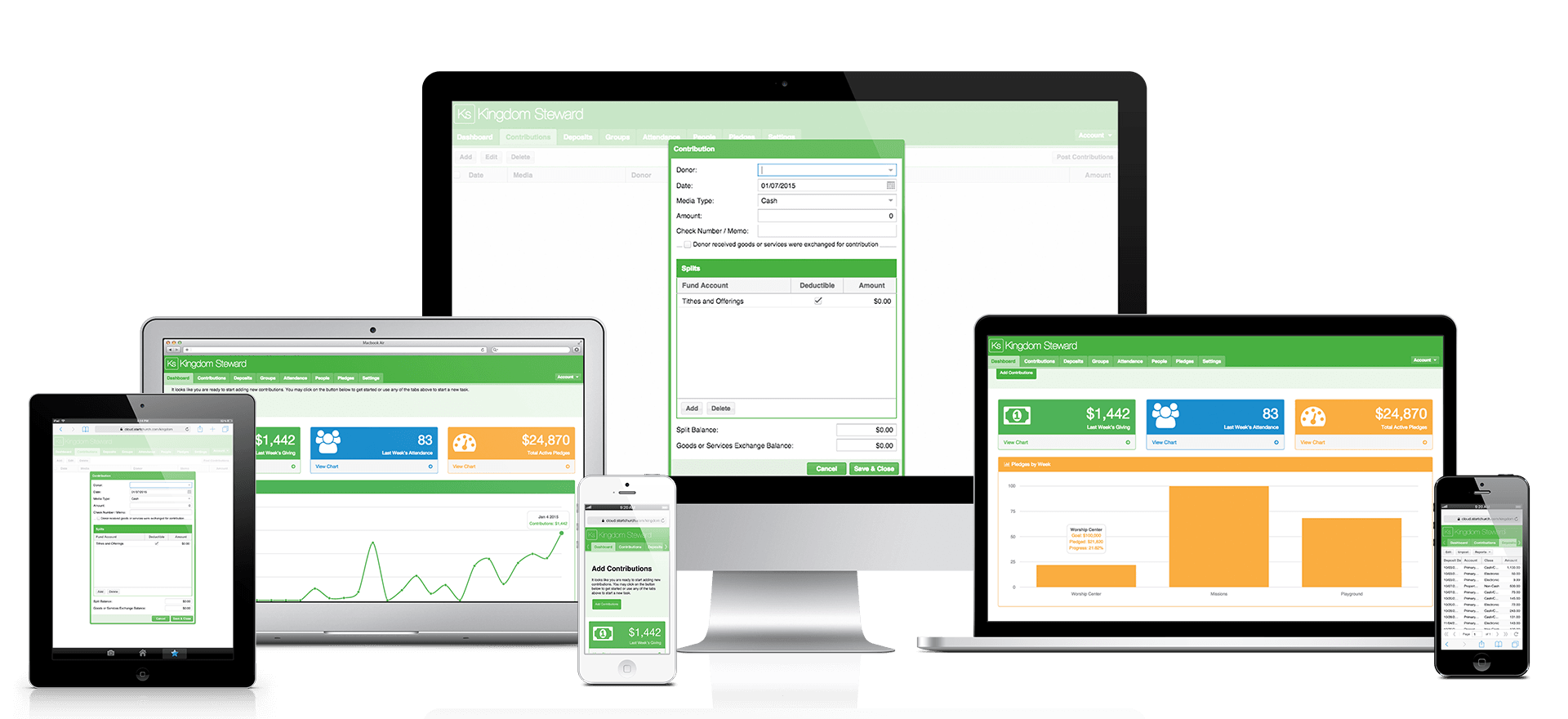 Features
Tithe and offering tracking
Managing donations, combined with the responsibility of issuing tax deductible receipts, can be confusing. Kingdom Steward™ is an advanced software program that enables you to track contributions, pledges, and attendance, print deposit slips and reports, access member information, and so much more.
Contributions
Now you can record contribution amounts, how each gift was given, and what method they used to give while ensuring accuracy and financial stewardship in the reporting process.
Reports and receipts
Through Kingdom Steward™ you will be able to print weekly, monthly, and yearly giving reports. You will also be able to email or print giving receipts for your ministry's donors.
Attendance
Now you can record vital church information such as names, addresses, giving records and more!
Donor profiles
Create and manage donor profiles complete with full contribution history and contact information.
Manage Multiple Funds and Accounts
Keep your cash moving toward your vision
Create and manage donor profiles complete with full contribution history and contact information.
Fund-based tracking allows you to keep track of running totals for tithes, offerings, youth, mission, buildings and more. You can assign contributions and create reports for each individual fund.
Once you enter someone's name, the program remembers it permanently so that you do not have to type it again.
You can split a contribution into any number of ministry funds.
Posting contributions is done as easily as two clicks of the mouse.
The program can automatically email or print receipts for each contribution or year end contribution statements with one click of the mouse.
12 months of full access to Kingdom Steward™
Within minutes of signing up, you will have 12 months of full access to Kingdom Steward™, including reporting, tracking, and managing tithes and offerings. This access is cloud-based and can be utilized simultaneously by multiple users across all web-enabled platforms. At the end of each year, you can automatically renew your subscription and continue to use Kingdom Steward™. Imagine your treasurer entering transactions at home while you run reports from your office. Give it a try. We are sure you will love it.
Get the most out of your Kingdom Steward experience
Here's a few tips to maximize your use of Kingdom Steward software:
YOU CAN
Print contribution statements
Print contribution receipts
Print reports according to income fund, giving method, attendance, small groups members, and pledges
Keep track of members and their attendance and contribution information
Use on Chrome and Safari web browsers
YOU CANNOT
Use across different platforms (i.e. Tablets, phones, or any device besides a computer)
Merge donors
Use Kingdom Steward for bookkeeping purposes